i think about it at least once a day.
i think about my family.
about how i'm not going to see them, at least for a long long time.
tia myra made her thoughts clear in her letter.
mama elena basically ripped my heart out.
my other relatives i bet feel the same fucking way.
will this ever stop hurting?
i remember when rachel and i had that blow up i didn't talk or see her for half a year. i just want to scream at all of them, telling them what fucking idiots they all are. how they're losing me for good. why would they want that just to get their opinion on my life out in the open.
fuck that.
just keep it to your damn self.
my God isn't their God.
He wouldn't make people hate.
make people stay in the dark and be ignorant.
they will realize how wrong they are, i fear though that it might be too late for some of them.
mOooOoood: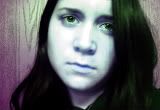 crushed
Current Muzak: ma and john in the kitchen